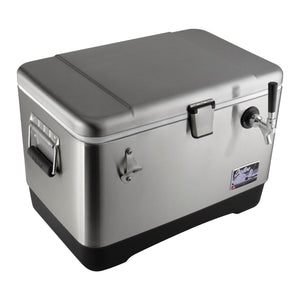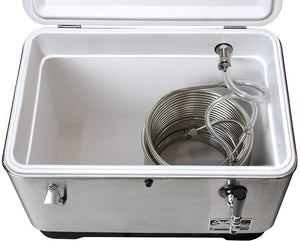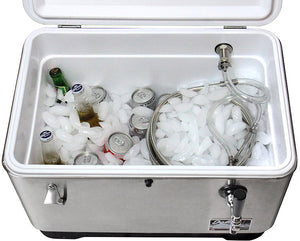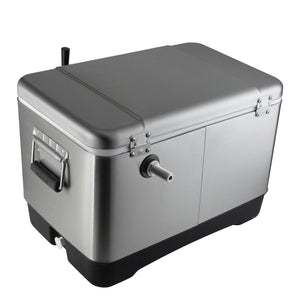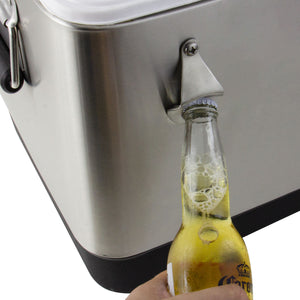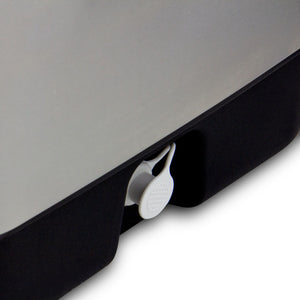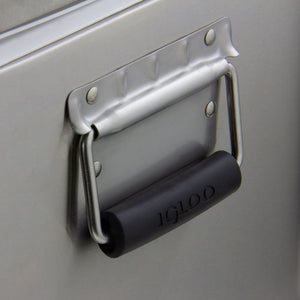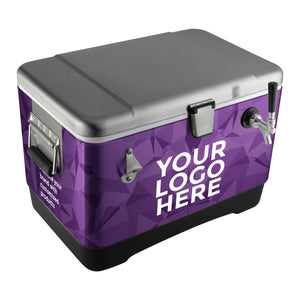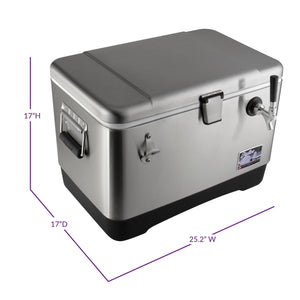 Stainless Steel Single Tap 54 Qt. Beer Jockey Box with Side Mounted Faucet
BF KJB-100-SS
Reg. $649.99
Sale $519.99 |
---
The two 3/8" O.D. 120' stainless steel coils provide a superior dispensing experience to that of the "cold plate" style jockey boxes
Ideal for dispensing cold beverages at outdoor parties, events, tailgating, etc
The rust-resistant cooler has an elevated non-metallic base to keep the cooler away from hot surfaces to ensure more efficient cooling
Direct draw kit is not included but is available
This Kegco Jockey Box makes it easy to enjoy ice cold beer straight from the keg at your next outdoor party, tailgate, or camping trip - without needing to keep the kegs themselves cold! Your beer is pumped into the jockey box and through a stainless steel coil that has been submerged in ice water, cooling down your beer as it passes through the coils. These stainless coils make this jockey box far superior for cooling than "cold plate" style jockey boxes.This double faucet jockey box features two 3/8" O.D. 120' stainless steel coils, allowing you to dispense from up to two kegs at the same time. It also comes with two chrome-plated brass faucets with brass levers, two black plastic faucet knobs, stainless steel shanks, and ice box coupler assemblies. The faucets are mounted in the center of the cooler, making it easy to install a drip tray beneath them to minimize the mess caused by drips and spills.This jockey box is made from a durable 52-quart chest cooler with Ultratherm foam insulation, which provides superior cold retention. The cooler measures 14.38" H x 25.38" W x 14.38" D, and features reinforced swing-up handles with a tie down loop feature.
Components necessary to complete jockey box are available as a package addon above or viewable individually below
---
Shipping
Standard shipping will be applied to your order. Additional charges apply for white glove delivery into your home. Contact us at 1-888-980-4810 for white glove shipping rates.

All Standard Shipping shipments made via Common Carrier are for curb-side service only. Use of a lift-gate or inside delivery service will carry additional charges. When receiving shipments from Common Carrier it is recommended the Buyer have two people to help receive and move the item. Please contact us for white glove service deliveries.

No shipments or deliveries are made on Saturdays, Sundays, and holidays. Kegco is not responsible for delays in shipping due to weather, mechanical failures, typographical and/or transcribing errors, and others factors beyond our control.
---
California Proposition 65 Warning:
This product contains a chemical or chemicals known to the State of California to cause cancer and birth defects or other reproductive harm. For more information, go to www.P65Warnings.ca.gov.