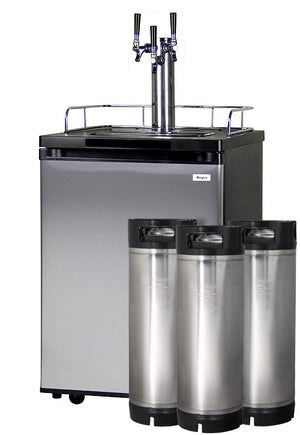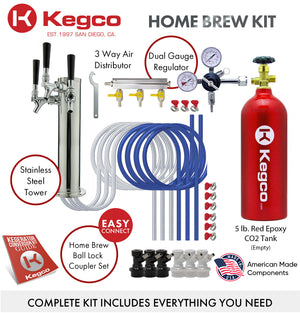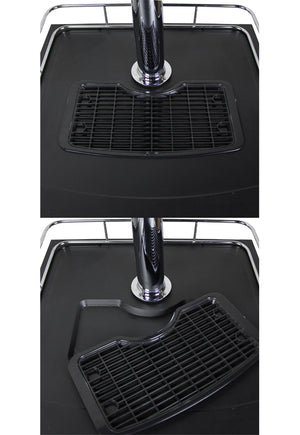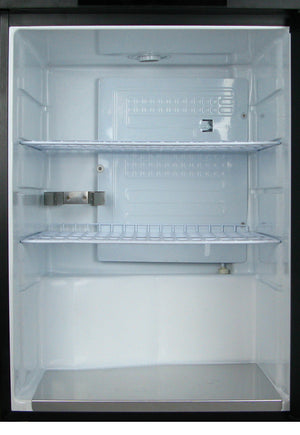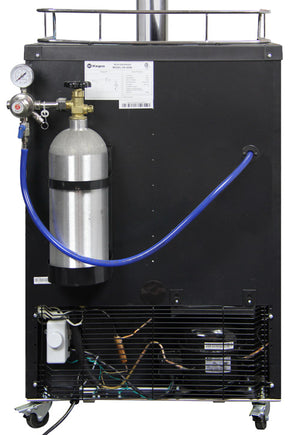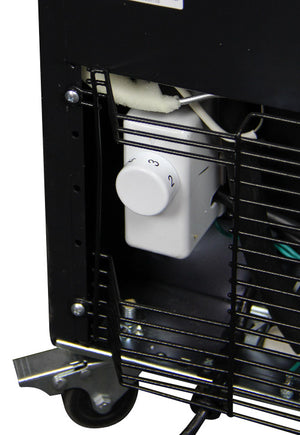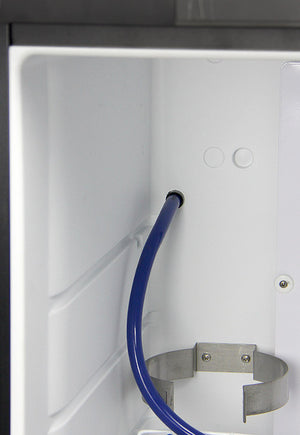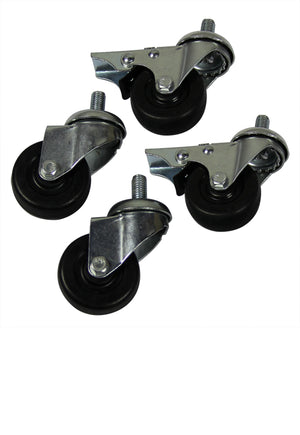 24" Wide Homebrew Triple Tap Stainless Steel Kegerator with Keg
BF HBK209S-3K
Reg. $1612.50
Sale $1350.00 |
---
Features dishwasher-safe removable built-in drip tray for easy clean-up, easy-roll locking casters, and a chrome guard rail
This dispenser includes all of the required components necessary to dispense three home brew ball lock Pepsi kegs at the same time including three 5 gallon kegs
Three distinct separate faucets allow you access three different beverages without cross contamination
Energy consumption is kept to a minimum with this environmentally and financially friendly unit
Extra spacious interior allows for up to three 5 gallon Cornelius kegs and a Co2 tank
When you bottle your home brewed beer, you're missing out on the densely foamy head, smooth mouth feel, slight tingle of effervescence, and refreshing frosty coldness that comes with draft beer dispensing. With Kegco's HBK209S-3K Three-Faucet Home-Brew Kegerator, it's now easier than ever to make the transition from bottling your homebrew to kegging it! This three-product kegerator allows you to store and tap up to three different kegs of home-brewed beer at the same time, letting you enjoy a wide range of brewery-fresh flavors without ever having to leave the comfort of your own home.
Kegco has included a 3-tap direct draw kit with this homebrew kegerator to provide you with everything you'll need to dispense up to three different beers straight from the keg - including the three 5 gallon Cornelius kegs! All you'll need to do is fill the CO2 tank and brew up some delicious beers, and you'll be pouring glass after glass in no time! This kit features an upgraded stainless steel draft beer tower, dual gauge regulator with air distributor, and red aluminum CO2 tank included at no additional cost, a total value of $35.
The HBK209S-3K's manual temperature control lets you set the ideal flavor-enhancing temperature for your brews and easily adjust it based on the type of beer that you have on tap at the time. A stainless steel floor plate evenly distributes the weight of your kegs, protecting your interior liner from damage to ensure a stable interior temperature. Four locking casters make it easy to move the kegerator to wherever you need it, and the two included storage shelves give you the option to convert the unit into a regular all-refrigerator when it isn't being used to dispense kegs.
Removable Drip Tray For Easy Cleanup
If you have ever had to deal with the mess of sticky dried beer, you will appreciate the removable recessed drip tray with a plastic grill that can be taken out and cleaned in your dishwasher.
Large Interior
This beer keg refrigerator has a spacious interior that easily accommodates any full size keg (including Coors Kegs, Miller Kegs, and rubber kegs!), as well as up to two 5-Gallon D System kegs or up to three 5-Gallon Cornelius Ball Lock Home-Brew Kegs. This large capacity gives you the option to dispense more than one beer keg at a time.
Converts to a Refrigerator with 2 Shelves
This versatile keg dispenser does more than just dispense delicious beverages. If you need extra refrigerated storage when not dispensing beer, this unit can be converted to an all-refrigerator using the 2 included adjustable shelves. These shelves can be spaced far enough apart to hold gallon jugs or 2-liter bottles, and you can even store wine thanks to the wide temperature range.
Locking Casters Provide Mobility
Take the party from the bar to the patio with these easy-roll casters! One your beer cooler is in position, they can be locked so that your cooler won't move again until you want it to...
Dimensions
Height
33.25"
Width
24"
Depth
25.0"
Weight
Unit Weight
165.0 lbs.
Shipping Weight
173 lbs.
Warranty
Labor
1 Year
Parts
1 Year
Compressor (Parts)
5 Years
Key Features
Built-In Capable
Yes
Security Lock
Yes
Outdoor Use
Yes
Commercial Use
Yes
Keg Storage Capacities
Full Size (1/2 Barrel)
1
Pony Size (1/4 Barrel)
1
Slim 1/4 Barrel
1
1/6 Barrel
2
5 Gallon Ball/Pin Lock Keg
3
Exterior
Cabinet
Black
Drip Tray
Yes
Guard Rail
Yes
Casters
Yes
Draft Beer Tower
Number of Faucets
Three
Material
Chrome
Height
12.25"
Diameter
3"
Door
Color
Stainless Steel
Number of Doors
1
Door Handle
Recessed
Field Reversible
Yes
Accepts Custom Panel
No
Cooling System
Type
Compressor
Defrost System
Manual
Front Ventilation
No
Controls
Adjustable Thermostat
Yes
Digital
Yes
Electrical
Electrial Requirements
115 V/60 Hz
Running Amps
1.7
---
Shipping
Standard shipping will be applied to your order. Additional charges apply for white glove delivery into your home. Contact us at 1-888-980-4810 for white glove shipping rates.

All Standard Shipping shipments made via Common Carrier are for curb-side service only. Use of a lift-gate or inside delivery service will carry additional charges. When receiving shipments from Common Carrier it is recommended the Buyer have two people to help receive and move the item. Please contact us for white glove service deliveries.

No shipments or deliveries are made on Saturdays, Sundays, and holidays. Kegco is not responsible for delays in shipping due to weather, mechanical failures, typographical and/or transcribing errors, and others factors beyond our control.
---
California Proposition 65 Warning:
This product contains a chemical or chemicals known to the State of California to cause cancer and birth defects or other reproductive harm. For more information, go to www.P65Warnings.ca.gov.