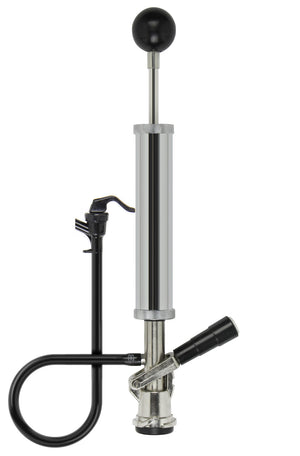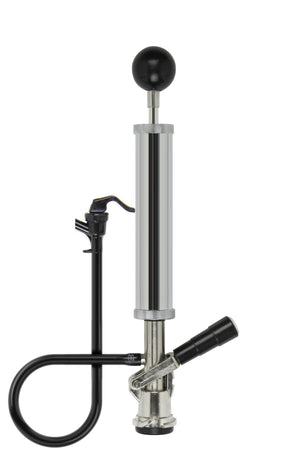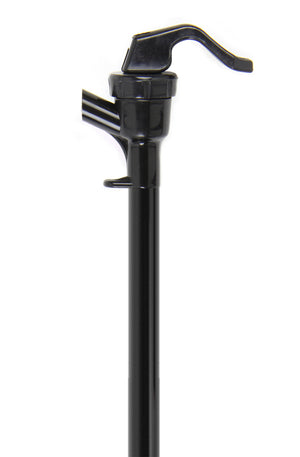 Keg Pumps
8" Keg Pump with Lever Handle for D System Kegs
BF LKP82D
---
The Kegco 8" American D System Keg Party Pump is rendered in tin-nickle plate making it built for long lasting performance and durability
The D System keg pump features a forged brass base, a chrome plated air pump, a squeeze trigger, and lever handle
The lever handle to makes it the perfect accessory for 1/6 size kegs and the 8" pump injects more air with each pump to pressurize the keg faster, allowing you to enjoy your beer quicker with less effort
These keg pumps are compatible with most domestic Brand Kegs such as Budweiser, Miller, Coors, and Busch
Kegco offers sets of 8" American D System keg pumps that are perfect for keg parties and picnics
The Kegco 8" American D System Keg Party Pump is rendered in tin-nickle plate making it built for long lasting performance and durability. The D System keg pump features a forged brass base, a chrome plated air pump, a squeeze trigger, and lever handle. The lever handle to makes it the perfect accessory for 1/6 size kegs and the 8" pump injects more air with each pump to pressurize the keg faster, allowing you to enjoy your beer quicker with less effort. These keg pumps are compatible with most domestic Brand Kegs such as Budweiser, Miller, Coors, and Busch. The Kegco D system keg pump is made to provide long-lasting service and outperform any other keg pump on the market.
Features:
System "D" (American Sankey)
Lever handle for easy keg tapping
Includes Chrome Plated 8" Pump
2 feet of plastic beer line with picnic faucet
Forged Brass Body for Durability
Tin-Nickel Alloy Plated Probe and Body
---
Shipping
Standard shipping will be applied to your order. Additional charges apply for white glove delivery into your home. Contact us at 1-888-980-4810 for white glove shipping rates.

All Standard Shipping shipments made via Common Carrier are for curb-side service only. Use of a lift-gate or inside delivery service will carry additional charges. When receiving shipments from Common Carrier it is recommended the Buyer have two people to help receive and move the item. Please contact us for white glove service deliveries.

No shipments or deliveries are made on Saturdays, Sundays, and holidays. Kegco is not responsible for delays in shipping due to weather, mechanical failures, typographical and/or transcribing errors, and others factors beyond our control.
---
California Proposition 65 Warning:
This product contains a chemical or chemicals known to the State of California to cause cancer and birth defects or other reproductive harm. For more information, go to www.P65Warnings.ca.gov.