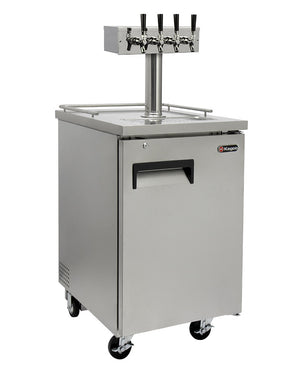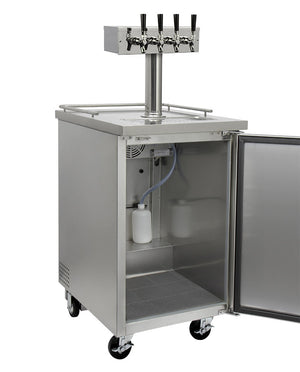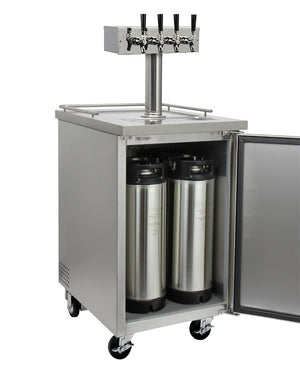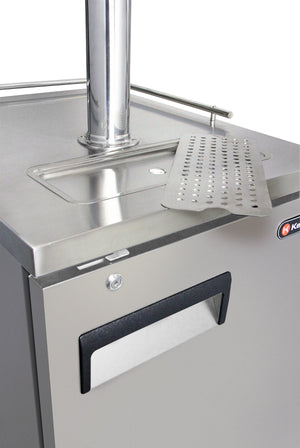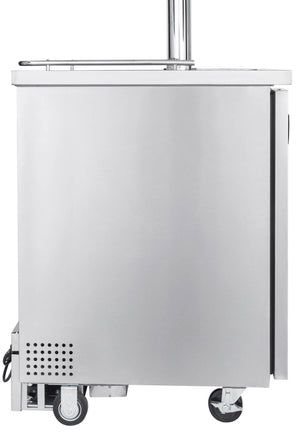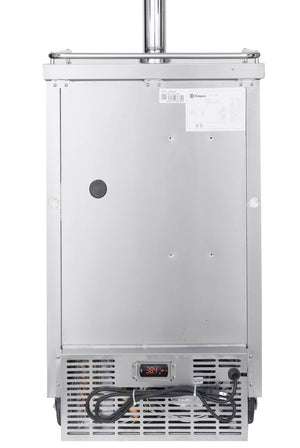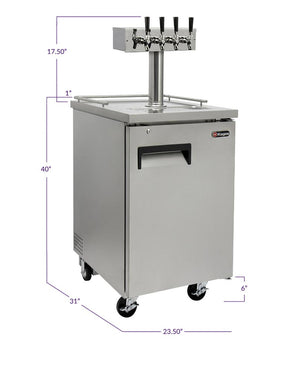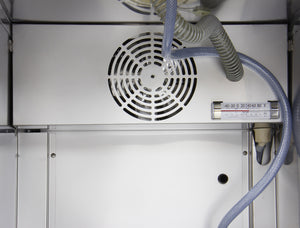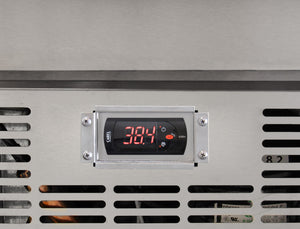 Four Tap Commercial Kombucharator Kombucha Keg Dispenser - Stainless Steel
BF MPKOMC1S-4
---
Enjoy your kombucha with convenience and style thanks to Kegco's KOMC1S-4 Four Tap Commercial Kombucha Kegerator, which has been specially designed to dispense kombucha, the nutritional probiotic tea packed with compounds that support your digestive and immune systems, detoxify, energize, clarify your skin, prevent disease, and elevate your mood. This kombucharator comes with a complete four tap dispense system and features a large interior that can house up to four 5 gallon ball lock kombucha kegs with an external CO2 tank.
Blower Hose for Air-Cooled Tower

Keep the beer line cooled all the way up to the back of the faucet

Fan-Forced Cooling

An interior fan provides rapid cool down and ensures consistent temperatures

Internal Thermometer

Quickly and accurately monitor the internal temperature at a glance
Knockout for external CO2 Tank or Drain Hose

This knockout allows you to mount your CO2 Tank outside the cabinet or direct the drip tray runoff to an external drain

Drip Tray Drain Receptacle

Any spills from the faucet can be directed into this bottle for quick and easy cleaning
Steel Walls

Behind these walls lies foamed in place polyurethane insulation to maintain a specific steady temperature

Rubber Floor Mat

A rubber floor mat reduces the shock of heavy kegs on the stainless steel floor
4" locking casters allow you to easily move the kombucha keg cooler wherever you need it, and the steel interior and built-in drip tray make clean-up fast and simple. You'll enjoy powerful cooling thanks to the 1/7 hp compressor, and cool air is fan-forced into the draft tower to keep your kombucha cool all the way up to the faucets.
Kegco's kombucha keg dispenser comes with everything you need to dispense up to four ball lock Cornelius kegs of kombucha at a time, including a T-style four faucet tower with stainless steel faucets, four sets of ball lock keg couplers for Cornelius home brew kegs, a single gauge CO2 regulator with an air distributor, and an aluminum CO2 tank. One 5 lb. tank can pressurize up to fourteen 5 gallon kegs before needing to be refilled. The faucets are constructed of durable and sanitary stainless steel, and the ball lock keg couplers are made of food grade plastic and have been designed to resist corrosion.
Dimensions
Height
Width
Depth
"
Weight
Unit Weight
150.0 lbs.
Shipping Weight
158 lbs.
Warranty
Labor
1 Year
Parts
1 Year
Compressor (Parts)
5 Years
Key Features
Built-In Capable
No
Security Lock
No
Outdoor Use
No
Commercial Use
No
Exterior
Cabinet
Drip Tray
No
Guard Rail
No
Casters
No
Draft Beer Tower
Number of Faucets
Material
Height
Diameter
Door
Color
Number of Doors
Door Handle
Field Reversible
No
Accepts Custom Panel
No
Cooling System
Type
Compressor
Defrost System
Front Ventilation
No
Controls
Adjustable Thermostat
No
Digital
No
Electrical
Electrial Requirements
115 V/60 Hz
Running Amps
1.7
---
Shipping
Standard shipping will be applied to your order. Additional charges apply for white glove delivery into your home. Contact us at 1-888-980-4810 for white glove shipping rates.

All Standard Shipping shipments made via Common Carrier are for curb-side service only. Use of a lift-gate or inside delivery service will carry additional charges. When receiving shipments from Common Carrier it is recommended the Buyer have two people to help receive and move the item. Please contact us for white glove service deliveries.

No shipments or deliveries are made on Saturdays, Sundays, and holidays. Kegco is not responsible for delays in shipping due to weather, mechanical failures, typographical and/or transcribing errors, and others factors beyond our control.
---
California Proposition 65 Warning:
This product contains a chemical or chemicals known to the State of California to cause cancer and birth defects or other reproductive harm. For more information, go to www.P65Warnings.ca.gov.