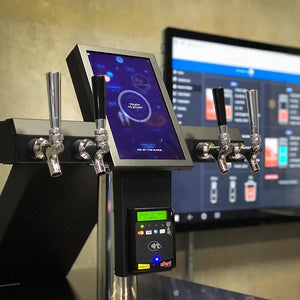 24" Wide Kegerator Vending Machine Four Tap Black Commercial Keg Dispenser
BF MPKVM-XCK-4B
---
Self-serve pay-by-the-ounce beverage dispensing system
Scheduling features allow for "free" and "paid" pouring
Overpour Technology (TM) helps control and reduce budget
Real-time dashboard tracking of keg/BIB inventory, sales, N2/CO2 levels, fridge temperature, connectivity, and more
Promo code features allow for free and discounted drink promotions
This Kegco KVM-XCK-4B Kegerator Vending Machine is a craft beverage vending machine that allows customers to pour their own nitro cold brew coffee and pay by the ounce. Locations such as apartment buildings, colleges and universities, and office buildings can also choose to allow users to pour beverages for free.
The KVM also allows for the remote, online monitoring of sales and transaction data, inventory levels, temperature data, and gas pressure levels, as well as other functions like PIN code promotions and discounts. It also features Overpour Technology (TM) where operators and locations can control the amount of beverage ounces a user can pour from the KVM during any given period.
The KVM-XCK-4B comes with a four tap dispense system that includes two stainless steel nitro stout faucets and two stainless steel standard faucets, four commercial D system keg couplers, and a premium dual gauge nitrogen regulator with an air distributor. Please call us at (888) 980-4810 if you would like to customize your dispense system with different components.
KVM Kegerator Vending Machine
Self-serve pay-by-the-ounce beverage dispensing system
Integrated payment system
10.1" touch screen
Scheduling features allow for "free" and "paid" pouring
Overpour Technology (TM) helps control and reduce budget
Real-time dashboard tracking of keg/BIB inventory, sales, N2/CO2 levels, fridge temperature, connectivity, and more
Promo code features allow for free and discounted drink promotions
4 tap dispense system
No waterline needed
Modern contemporary design
Our KVMs connect through Wifi, Ethernet, or external cellular device; if a customer has to use an external cellular device, the company we recommend is OptConnect (https://www.optconnect.com/)
Credit card processing is done through our payment processing partner Cantaloupe Payment Systems (https://www.cantaloupe.com/)
Kegco XCK Kegerator
Keg Storage Capacities:
One (1) Full Size / 1/2-Barrel (15.5 Gal.)
One (1) Pony Size / 1/4-Barrel Short (7.75 Gal.)
Two (2) 1/4-Barrel Slim (7.75 Gal.) or
Four (4) 1/6-Barrel (5.23 Gal.)
Maximum Ambient Temperature: 90 degrees Fahrenheit
Minimum Ambient Temperature: The lowest temperature you want to store your kegs at. The unit does not have a heater, so if the ambient temperature is lower than the set temperature, the internal temperature will match the external temperature.
Continuous cold air channeled through tower to ensure cold product
Heavy-duty stainless steel top
Built-in drip tray with drain
Stainless steel interior walls and ceiling
Rubber Floor Mat prevents damage to interior
Magnetic gasket provides positive door sealing
Self-closing door with lock
Refrigeration system utilizes ozone-friendly R134a refrigerant
CFC-free foamed-in-place polyurethane insulation
Knockout for remote nitrogen tank
Black finish
Dimensions
Height
40" (top of guard rail)
Width
23.5"
Depth
31.0"
Weight
Unit Weight
150.0 lbs.
Shipping Weight
158 lbs.
Warranty
Labor
1 Year
Parts
1 Year
Compressor (Parts)
5 Years
Key Features
Built-In Capable
No
Security Lock
No
Outdoor Use
No
Commercial Use
Yes
Exterior
Cabinet
Drip Tray
No
Guard Rail
No
Casters
No
Draft Beer Tower
Number of Faucets
Four
Material
Stainless Steel
Height
Diameter
3"
Door
Color
Number of Doors
Door Handle
Recessed
Field Reversible
No
Accepts Custom Panel
No
Cooling System
Type
Compressor
Defrost System
Front Ventilation
No
Controls
Adjustable Thermostat
Yes
Digital
Yes
Electrical
Electrial Requirements
115 V/60 Hz
Running Amps
1.7
---
Shipping
Standard shipping will be applied to your order. Additional charges apply for white glove delivery into your home. Contact us at 1-888-980-4810 for white glove shipping rates.

All Standard Shipping shipments made via Common Carrier are for curb-side service only. Use of a lift-gate or inside delivery service will carry additional charges. When receiving shipments from Common Carrier it is recommended the Buyer have two people to help receive and move the item. Please contact us for white glove service deliveries.

No shipments or deliveries are made on Saturdays, Sundays, and holidays. Kegco is not responsible for delays in shipping due to weather, mechanical failures, typographical and/or transcribing errors, and others factors beyond our control.
---
California Proposition 65 Warning:
This product contains a chemical or chemicals known to the State of California to cause cancer and birth defects or other reproductive harm. For more information, go to www.P65Warnings.ca.gov.