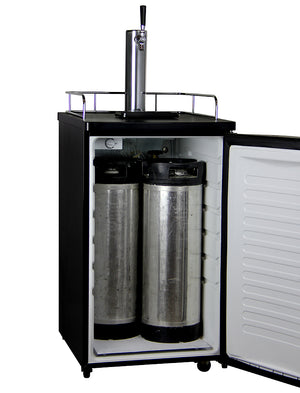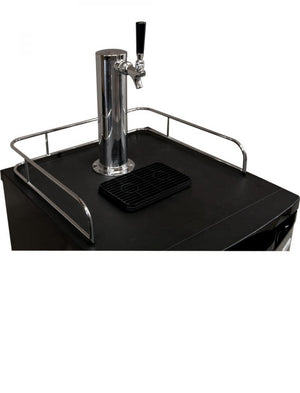 20" Wide Kombucha Single Tap Black Kegerator
KC MPKOM19B-1
Reg. $1132.00
Sale $849.00 |
---
Spacious interior houses up to a full size commercial keg
Features a stylish black cabinet with reversible black door, removable drip tray,and chrome guard rail
Included shelving allows for conversion to an all-refrigerator
Food grade plastic and stainless steel ensure cleanliness
Specifically designed to meet the unique requirements of a kombucha/fermented tea kegerator
Introducing Kegco's new KOM19B-1 Kombucha Dispenser, which makes it easier than ever to store, refrigerate, and dispense kombucha. Kombucha is a nutritional probiotic tea packed with compounds that help support your digestive and immune systems, detoxify, energize, clarify your skin, prevent disease, and elevate your mood. Our Kombucharator has been designed with stainless steel fittings and a stainless steel faucet to provide a sanitary environment for the live cultures found in kombucha. This kombucha keg dispenser comes complete with all of the components needed to begin dispensing your 'buch' from a keg. Comes with a Kegco Exclusive tower that measures 14" tall, giving you an extra 2" of space over standard draft beer towers to allow you to easily fill tall growlers and pint glasses.
The single tap kombucha dispense system included with this keg cooler features a stainless steel faucet and fittings, a set of ball lock keg couplers for Cornelius homebrew kegs, a commercial-grade dual gauge CO2 regulator, and a 5 lb. aluminum CO2 tank with glossy red coating. The CO2 tank ships empty, and will be able to pressurize up to fourteen five-gallon kegs once it has been filled. Within the sleek black cabinet with matching reversible black door, the spacious interior can hold up to two corny kegs at a time. The cabinet also boasts convenient features like a built-in drip tray for easy clean-up, a chrome guard rail that helps prevent glasses from sliding off of the countertop, and rolling casters that allow you to easily move the keg dispenser from room to room. The CO2 tank fits easily within the cabinet, but if you'd like to free up more space for storage, we've included an external tank mount and a knockout for the air line. When you aren't using this keg refrigerator to dispense kombucha, it can be easily converted into an all-refrigerator for food and beverage storage using the two adjustable wire shelves that are provided.
Dimensions
Height
33"
Width
20"
Depth
25.5"
Weight
Unit Weight
112.0 lbs.
Shipping Weight
120 lbs.
Warranty
Labor
1 Year
Parts
1 Year
Compressor (Parts)
5 Years
Key Features
Built-In Capable
No
Security Lock
No
Outdoor Use
No
Commercial Use
No
Keg Storage Capacities
Full Size (1/2 Barrel)
1
Pony Size (1/4 Barrel)
1
Slim 1/4 Barrel
1
1/6 Barrel
2
5 Gallon Ball/Pin Lock Keg
2
Exterior
Cabinet
Black
Drip Tray
Yes
Guard Rail
Yes
Casters
Yes
Draft Beer Tower
Number of Faucets
One
Material
Stainless Steel
Height
12.25"
Diameter
3"
Door
Color
Black
Number of Doors
1
Door Handle
Recessed
Field Reversible
Yes
Accepts Custom Panel
No
Cooling System
Type
Compressor
Defrost System
Manual
Front Ventilation
No
Controls
Adjustable Thermostat
Yes
Digital
No
Electrical
Electrial Requirements
115 V/60 Hz
Running Amps
1.7
---
Shipping
Standard shipping will be applied to your order. Additional charges apply for white glove delivery into your home. Contact us at 1-888-980-4810 for white glove shipping rates.

All Standard Shipping shipments made via Common Carrier are for curb-side service only. Use of a lift-gate or inside delivery service will carry additional charges. When receiving shipments from Common Carrier it is recommended the Buyer have two people to help receive and move the item. Please contact us for white glove service deliveries.

No shipments or deliveries are made on Saturdays, Sundays, and holidays. Kegco is not responsible for delays in shipping due to weather, mechanical failures, typographical and/or transcribing errors, and others factors beyond our control.
---
California Proposition 65 Warning:
This product contains a chemical or chemicals known to the State of California to cause cancer and birth defects or other reproductive harm. For more information, go to www.P65Warnings.ca.gov.