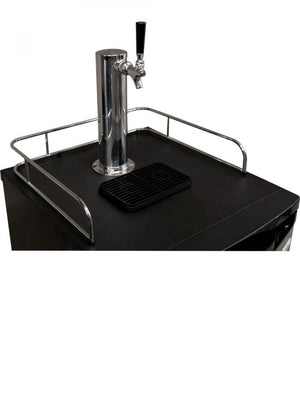 20" Wide Homebrew Single Tap Black Kegerator
BF HBK199B-1
---
Designed with a complete homebrew dispense kit that takes the guesswork out of dispensing home-brewed beer, this kegerator features a stainless steel tower, premium dual gauge regulator, and empty 5 lb. aluminum CO2 tank with glossy red finish
Spacious interior can easily hold up to two 5 gallon Cornelius ball lock home brew kegs and includes two adjustable storage shelves that give you the option to convert the keg cooler into an all-refrigerator or beverage center
Sleek all-black cabinet features a chrome guardrail to help keep your mugs and glasses from sliding off, a removable dishwasher-safe drip tray to catch drips and spills, and four locking casters for convenient mobility
This quiet and energy efficient kegerator has a potential temperature range of 32 to 75 degrees Fahrenheit, allowing you to serve everything from Pilsners to Stouts at their ideal, flavor-enhancing temperature
UL listed keg dispenser is durably designed with a stainless steel interior floor plate that evenly distributes the weight of your kegs, helping to prevent damage to the internal lining and allowing your kegs to glide smoothly in and out
There are many benefits to kegging your homebrewed beer compared to other storage and serving methods. While storing your homebrew in a growler or bottling your beer can be great options, Kegging your beer and dispensing it from Kegco's HBK199B-1 kegerator will allow you to enjoy your homebrew at the perfect temperature and consistency with every glass. With a potential range of 32-75 degrees F, and recommended serving temperatures for beer ranging from 33-55 degrees F, you can serve everything from Pilsners to Stouts at their ideal, flavor-enhancing temperatures. In addition, this kegco kegerator is energy efficient so you can serve your extra-cold light lagers with minimal environmental impact. Comes with a Kegco Exclusive tower that measures 14" tall, giving you an extra 2" of space over standard draft beer towers to allow you to easily fill tall growlers and pint glasses.
By using a kegerator to serve your beer you will be getting the maximum enjoyment of your homebrew with ease. Features like a grated, plastic, dishwasher safe drip tray that sits on top of this keg refrigerator makes inevitable spills and accidental over-fills a breeze to clean up. The four locking casters that this keg cooler is mounted on makes moving the refrigerator for cleaning or parties effortless. Additionally, the Beverage Factory has taken the guess work out of setting up your system by assembling a complete tapping kit that accompanies this keg cooler. The included CO2 Tank, Regulator, Keg Coupler, air and beer lines, and keg conversion manual, will get you up and running quickly. All that will be left up to you is to provide the keg of homebrewed beer!
Because this kegerator is intended for home use, it has an ultra-quiet design and is safe to plug into a regular wall socket. The black finish on the cabinet and the door gives this unit a sleek look while also making it easy to incorporate into an already existing design in your home. It's stainless steel construction and interior steel floor plate ensures even weight distribution from your kegs and means that this kegerator will keep you serving drafted homebrew to your friends and family for a long time to come.
Dimensions
Height
33"
Width
20"
Depth
25.5"
Weight
Unit Weight
112.0 lbs.
Shipping Weight
120 lbs.
Warranty
Labor
1 Year
Parts
1 Year
Compressor (Parts)
5 Years
Key Features
Built-In Capable
No
Security Lock
No
Outdoor Use
No
Commercial Use
No
Keg Storage Capacities
Full Size (1/2 Barrel)
1
Pony Size (1/4 Barrel)
1
Slim 1/4 Barrel
1
1/6 Barrel
2
5 Gallon Ball/Pin Lock Keg
2
Exterior
Cabinet
Black
Drip Tray
Yes
Guard Rail
Yes
Casters
Yes
Draft Beer Tower
Number of Faucets
One
Material
Chrome
Height
9.25"
Diameter
4"
Door
Color
Black
Number of Doors
1
Door Handle
Recessed
Field Reversible
Yes
Accepts Custom Panel
No
Cooling System
Type
Compressor
Defrost System
Manual
Front Ventilation
No
Controls
Adjustable Thermostat
Yes
Digital
No
Electrical
Electrial Requirements
115 V/60 Hz
Running Amps
1.7
---
Shipping
Standard shipping will be applied to your order. Additional charges apply for white glove delivery into your home. Contact us at 1-888-980-4810 for white glove shipping rates.

All Standard Shipping shipments made via Common Carrier are for curb-side service only. Use of a lift-gate or inside delivery service will carry additional charges. When receiving shipments from Common Carrier it is recommended the Buyer have two people to help receive and move the item. Please contact us for white glove service deliveries.

No shipments or deliveries are made on Saturdays, Sundays, and holidays. Kegco is not responsible for delays in shipping due to weather, mechanical failures, typographical and/or transcribing errors, and others factors beyond our control.
---
California Proposition 65 Warning:
This product contains a chemical or chemicals known to the State of California to cause cancer and birth defects or other reproductive harm. For more information, go to www.P65Warnings.ca.gov.