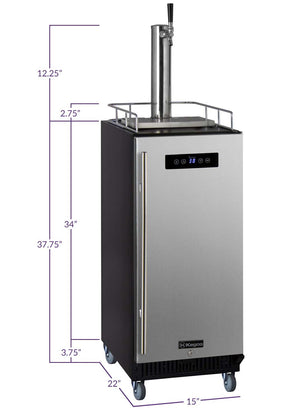 15" Wide Commercial Cold Brew Coffee Kegerator with Stainless Steel Door
BF MPICS15BSR
Reg. $1798.67
Sale $1349.00 |
---
The ETL and ETL Sanitation Listed and NSF Compliant Kegco ICS15BSR features a durable construction, high powered performance, and quiet and energy efficient operation that makes it suitable for both commercial and residential applications
The ICS15BSR comes complete with a single tap draft dispense system and everything you need to tap a Cornelius ball lock cold brew coffee keg, including a single faucet stainless steel draft tower, a stainless steel faucet, an empty nitrogen tank, a double gauge nitrogen regulator, and ball lock keg couplers
An intuitive digital control panel makes it easy to precisely set the internal temperature between 32 and 65 degrees Fahrenheit to store and dispense kegs of iced coffee, while fan-forced cooling helps maintain the optimal refrigerated storage environment and an air-cooled draft tower ensures that every drop of cold-brew coffee remains refreshingly chilled from the keg to your glass
This coffee dispenser has great features like an easy-to-clean stainless steel drip tray, a chrome guard rail that helps prevent glasses from sliding off of the countertop, easy rolling casters that allow you to easily move the unit from room to room in your home or business, and a built-in door lock to keep the contents secure
The convenient 15" width makes this keg refrigerator perfect for environments with limited available space like small tasting rooms and apartments, and the large interior allows you to store one 5 gallon home brew keg, one quarter slim keg, or one 5 gallon commercial keg
This sleek, space-saving Kegco ICS15BSR Javarator makes it easy to craft the perfect coffee bar experience in your home or business. Specially designed with a convenient 15" width, this iced coffee kegerator is NSF Compliant, ETL/ETL Sanitation Listed, and suitable for freestanding use in both commercial and residential applications.
Interior Light
Interior lighting illuminates the contents of the kegerator, making it easy to adjust your beverage line or configure your keg coupler. The low-heat light will not affect the temperature inside the javarator.
Digital Controls
Easily adjust your kegerator's internal temperature with the push of a button! The digital control panel located on the door allows you to store and dispense anywhere from 32 to 65 degrees Fahrenheit.
Fits Quarter Slim Keg
Even with its narrow, space-saving design, this keg cooler has the capacity to hold a 7.75 gallon quarter slim keg. Depending on the beverage of your choice, your can also store a Sankey or 5 gallon ball lock home brew keg in this unit.
Includes Complete Dispense Kit
This kit includes a 3" diameter polished stainless steel draft tower with stainless steel faucet, a double gauge nitrogen regulator, an empty 15 cu.ft. nitrogen tank, and ball lock keg couplers.
Wide Temperature Range
The Kegco ICS15BSR boasts a temperature range that's ideal for serving cold brew coffee or even storing wines for long-term cellaring purposes. Dispense a smooth cup of joe at an ice-cold 32°F or crank the temperature as high as 65°F.
Dimensions
Height
34"
Width
15"
Depth
22.0"
Weight
Unit Weight
139.0 lbs.
Shipping Weight
147 lbs.
Warranty
Labor
1 Year
Parts
1 Year
Compressor (Parts)
5 Years
Key Features
Built-In Capable
No
Security Lock
Yes
Outdoor Use
No
Commercial Use
Yes
Keg Storage Capacities
Slim 1/4 Barrel
1
1/6 Barrel
1
5 Gallon Ball/Pin Lock Keg
1
Exterior
Cabinet
Black
Drip Tray
Yes
Guard Rail
Yes
Casters
Yes
Draft Beer Tower
Number of Faucets
One
Material
Stainless Steel
Height
Diameter
Door
Color
Stainless Steel
Number of Doors
1
Door Handle
Field Reversible
No
Accepts Custom Panel
No
Cooling System
Type
Compressor
Defrost System
Front Ventilation
No
Controls
Adjustable Thermostat
No
Digital
No
Electrical
Electrial Requirements
115 V/60 Hz
Running Amps
1.7
---
Shipping
Standard shipping will be applied to your order. Additional charges apply for white glove delivery into your home. Contact us at 1-888-980-4810 for white glove shipping rates.

All Standard Shipping shipments made via Common Carrier are for curb-side service only. Use of a lift-gate or inside delivery service will carry additional charges. When receiving shipments from Common Carrier it is recommended the Buyer have two people to help receive and move the item. Please contact us for white glove service deliveries.

No shipments or deliveries are made on Saturdays, Sundays, and holidays. Kegco is not responsible for delays in shipping due to weather, mechanical failures, typographical and/or transcribing errors, and others factors beyond our control.
---
California Proposition 65 Warning:
This product contains a chemical or chemicals known to the State of California to cause cancer and birth defects or other reproductive harm. For more information, go to www.P65Warnings.ca.gov.