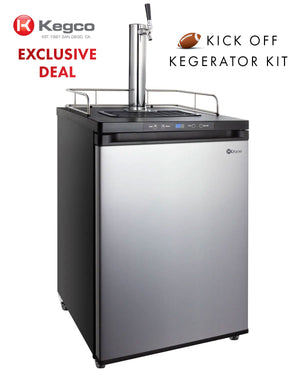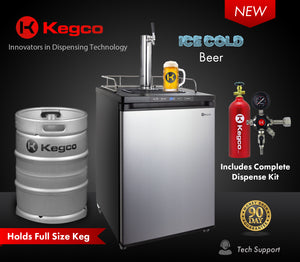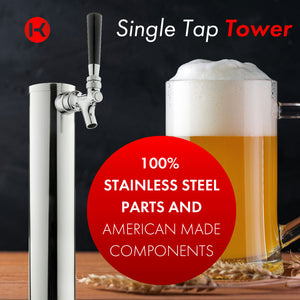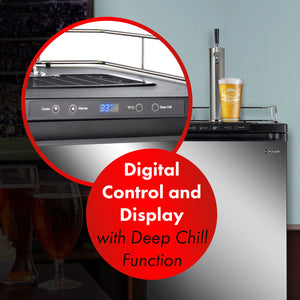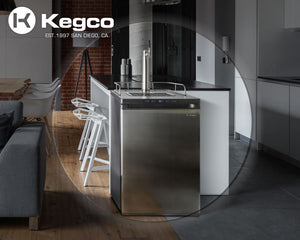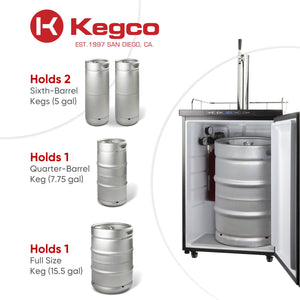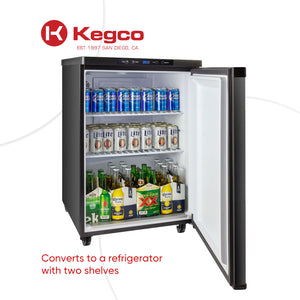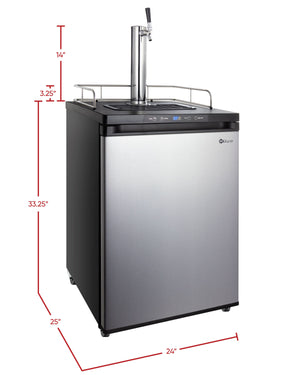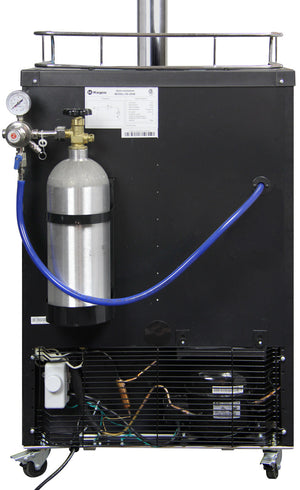 Kegerators
24" Wide Single Tap Stainless Steel Digital Kegerator - Exclusive Kit
BF K309SS-1SK
Reg. $1326.67
Sale $995.00 |
---
Buying a new kegerator is easier than ever thanks to Kegco's new K309SS-1SK 1 Faucet Digital Kegerator! This kegerator comes complete with a specially designed exclusive single tap draft dispense system that includes all of Kegco's most popular keg dispensing equipment, taking the guesswork out of building your draft system. This K309SS-1SK keg refrigerator is also packed with all of Kegco's most convenient features, such as a removable built-in drip tray that is easy to clean, a chrome guardrail that prevents glasses from sliding off the top, and easy rolling casters. Digital temperature controls let you see your specific temperature setting and set it easily with the push of a button, as well as giving you a wider available temperature range for more precise temperature control.
---
Digital Temperature Control
It's digital temperature display and push button control make it easier than ever to set and verify the internal temperature of this beer cooler. Instead of having to guess what temperature a number on a dial will produce, you simply need to press the up or down button to adjust the temperature by one degree. The display can be set to either Fahrenheit or Celsius.
---
Fan-Forced Cooling for Super Cool Temperatures
Kegco K309SS-1SK Kegerators have one of the coldest temperature ranges of any keg dispenser on the market today thanks to fan-forced cooling, which provides even cooling throughout the unit. To dispense ice cold beer the temperature can be set as low as 32 degrees.
---
Large Interior
This beer refrigerator has a spacious interior that is large enough to easily hold any full size keg, including Miller kegs, Coors Kegs and rubber kegs. It can also hold up to two 5 gallon D system kegs or up to three 5 gallon Cornelius ball lock home brew kegs, which gives you the option to dispense more than one beer at a time.
---
Deep Chill Function
This unit has a Deep Chill function that allows you to quickly cool down a warm keg by forcing the compressor to work continuously for 24 hours. When your keg has reached the desired temperature, press Deep Chill again to return to normal operation.*
---
Converts to a Refrigerator with 2 Shelves
When you're not using this unit as a keg cooler, it can be easily converted into a refrigerator for extra storage. The two included adjustable shelves can be spaced far enough apart to hold 2-liter bottles or gallon jugs, and with the wide temperature range available in these Beer Dispensers, you can even use them to store wine!
---
Locking Casters Provide Mobility
Easy-roll casters allow you to easily move these Kegco K309SS-1SK Keg Refrigerators from the kitchen to the patio for your backyard barbecue! Once you have your kegerator where you want it, the casters can be locked so that it won't roll again until you want it to.
---
This keg beer dispenser comes with a complete dual tap draft dispense system that features 100% stainless steel contact. This kit includes a 3" diameter dual faucet polished stainless steel draft tower with two stainless steel faucets, two D system lever handle keg couplers with stainless steel probes, a commercial grade dual gauge two product CO2 regulator, and a brand new 5 lb. aluminum CO2 tank.
* - Letting the Deep Chill function run for the full 24 hours may result in freezing of the keg.
Dimensions
Height
Width
Depth
Weight
Unit Weight
102.0 lbs.
Shipping Weight
110 lbs.
Warranty
Labor
1 Year
Parts
1 Year
Compressor (Parts)
5 Years
Key Features
Built-In Capable
No
Security Lock
No
Outdoor Use
No
Commercial Use
No
Exterior
Cabinet
Drip Tray
No
Guard Rail
No
Casters
No
Draft Beer Tower
Number of Faucets
Material
Height
Diameter
Door
Color
Number of Doors
Door Handle
Field Reversible
No
Accepts Custom Panel
No
Cooling System
Type
Compressor
Defrost System
Front Ventilation
No
Controls
Adjustable Thermostat
No
Digital
No
Electrical
Electrial Requirements
115 V/60 Hz
Running Amps
1.7
---
Shipping
Standard shipping will be applied to your order. Additional charges apply for white glove delivery into your home. Contact us at 1-888-980-4810 for white glove shipping rates.

All Standard Shipping shipments made via Common Carrier are for curb-side service only. Use of a lift-gate or inside delivery service will carry additional charges. When receiving shipments from Common Carrier it is recommended the Buyer have two people to help receive and move the item. Please contact us for white glove service deliveries.

No shipments or deliveries are made on Saturdays, Sundays, and holidays. Kegco is not responsible for delays in shipping due to weather, mechanical failures, typographical and/or transcribing errors, and others factors beyond our control.
---
California Proposition 65 Warning:
WARNING: This product contains a chemical or chemicals known to the State of California to cause cancer and birth defects or other reproductive harm. For more information, go to www.P65Warnings.ca.gov.